A lot of Nigerians have been left frustrated trying to pay for Alison certificate. If you're one of those people then you're in luck as this post brings you a solution.
A little note on Alison.
Alison is an online portal for free learning. It has over 3,500 courses and over 100,000 students. You can sign up and start any course but you'll have to pay a token to download your certificate.
You can sign up with your Facebook account or with your Google account.
After signing up you can hover on the "Explore Courses" tab to see available courses.
Now back to the challenges Nigerians face when trying to pay for a certificate. You'll find that no naira debit card works on the platform. This turns out to using PayPal. And again PayPal doesn't work in Nigeria.
Hold I promised a solution and I'm giving that.
The only way out here is to turn to PayDula.com. They help you pay for different online services including Alison certificates and Duolingo test.
An example is below: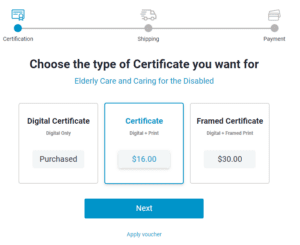 You can see "purchased" from the left. Below is the screenshot for the payment of 2 certificates.
That's it. Payment takes less than 10mins and you'll receive a mail with a link to download your certificates.